One of the best things about booking a trip is the planning. We do research online for accommodation, things to do and places to eat. Reading reviews, blog posts and searching hashtags on social media in the hope we stumble across something special. I have lists within lists of places all over Scotland that we want to visit, all with their own selling point. When we booked our winter trip to Shetland, twelve months in advance, I knew this would give me plenty of time to make lists. Although we had booked self catering accommodation when we were invited for an overnight stay at Busta House Hotel we jumped at the chance.
Self catering is nice but lets be honest, staying in a hotel is the bees knees. Here's how we got on during our visit:
Location
Busta House Hotel is located on the north west coast of Mainland (the largest of Shetland's islands). It takes about forty minutes to drive from Lerwick up to Brae. As always, it took us longer than this because we stopped in parking places to admire views and look for otters.
The hotel itself overlooks Busta Voe and across to Brae. It has this feeling of isolation and privacy but yet it is still very much a part of the community. A great balance.
Brae is a fairly sizable village with a large Co-Op, B&B's and is home to Frankie's, the UK's most northerly fish and chip shop. We didn't visit on this occasion (we were saving ourselves for the food at the hotel), but I know from my first trip to Shetland their awards are well deserved.
If you want to add another Shetland island to your tally Muckle Roe is a sweet place. Attached to Mainland by a small causeway it's just 3 miles in diameter and packed with character. Sea stacks, impressive cliffs all add to the charm too. On the day we drove over the bridge, the wind and rain were persistent and we decided that we didn't want to get soaked.
Things to do
On the day of our stay at Busta House Hotel the sun was shining. It was the day after Lerwick Up Helly Aa and although we didn't get to bed until 02:30ish (early by Up Helly Aa standards), we were up bright and early. I hate wasting the day. Anyway…..
Walk at Esha Ness
I knew just the place to blow the cobwebs away, Esha Ness. It is home to Shetland's very own volcano and the name Esha Ness is old norse translates as esja: ashy/flaky nes: promontary headland.
Back in 2017 when I visited Shetland, we didn't stay long enough to explore too far. The wind was brutal and it was a struggle to stand up straight but it certainly was an experience. This time couldn't have been any more different. Yes the wind was blowing but it was a light breeze compared to the last time!
We parked up at the lighthouse that has been keeping people safe since 1929 but has been automated since 1974. Deciding to walk northwards along the cliff tops we gazed in wonder at the beauty, power and magnificence. I wanted to walk so much further than we did but I just couldn't take my eyes of some of the stacks and arches. Watching the sea roll in and crash against the cliffs, whilst the sea birds were gliding effortlessly over our heads. It's a special place.
Wildlife watching in Shetland
You might think spotting wildlife wasn't conducive to Shetland in January. You'd be wrong.
There are otters galore all around the voes, harbours and bays, you just have to tune your eyes in. Always wanted to see Orcas? This could happen during your trip too. Sadly we didn't see any Orcas but they did show up near to the hotel just a few days after our stay. Sods law, I think it's called!
Puffins, everyone's seasonal favourites, start arriving from mid-April to early August. They really are the cutest wee things. But lets not forget the impressive diving skills of the gannets and the calls of the kittiwakes and fulmars during the breeding season either. If you are lucky, you might spot one of the great skuas that choose to nest on coastal moorland. They can be quite aggressive though so always treat them with respect and keep a good distance.
In recent years a Tengmalm's owl has been seen for the first time in 100 years in Shetland.
I'm itching to return in summer months when nature's orchestra plays this loud.
Stay at Busta House Hotel
The dark clouds eventually started to roll in just as we returned back to our car at Esha Ness. Fatigue was now starting to set in after the late night/early morning and we decided to see if we could check in slightly earlier for our stay at Busta House Hotel.
We received a cheery welcome from Joel, the manager, who showed us to our room – Muckle Roe.
After a quick freshen up and mooch around our room we decided we needed a drink and made our way back downstairs to the bar. It's perfectly acceptable to drink at 3pm when you're on holiday, right?
The young man behind the bar was very knowledgeable and helped us pick our drinks. I opted for a G&T – Shetland Reel, Ocean Sent (that's not a typo). The distillery is up in Unst and this particular gin showcases a native seaweed, sustainably gathered and used to create this tasty tipple. Dude was happy to see some local ales too. Lerwick Brewery produce a good selection of IPA, lager and stout. He was more than happy to sip a pint of the IPA.
We retired to the Long Room with our drinks and chatted about his first Up Helly Aa experience from the night before. Laughing at some of the squad's dance routine back at the halls.
As a listed building we knew the hotel would have some history but maybe not imagined it could be so varied. Some far more exciting than your favourite soap opera could ever write!
Once the most prosperous estate in Shetland but somewhat jinxed over the years maybe? An air of mystery with a disappearance, secrets, blackmail and death. The full history is a riveting read, of which there was a copy in our room.
More recently the tables have turned and luck has changed with it.
The Queen once stopped for afternoon tea in the Long Room whilst sailing around the coast aboard the Royal Yacht Britannia.
For those of us that watch Jimmy Perez solving crime in the TV series Shetland, this is also a filming location for series 2.
The room, as it's name suggests is long with a large open fire at the far end. Groups of comfy sofas and chairs line the walls and make for a very social environment. The large, backlit cabinet glowing amber made Dude's eyes light up with delight. A selection of around two hundred whiskies from Scotland. Not just any old stuff though, some rather special, some unusual and some that you can no longer get hold of.
Our room – Muckle Roe
Now back in our room it was time to settle in properly.
The room is large enough to accommodate a very comfy double bed and all the cupboard and drawer space you would require for a long stay. At the opposite end of the room there is a two seater sofa, television and it's a great spot for reading.
In the bathroom, the shower is over the bath and there is enough room to get dry etc. It's a bathroom and does what it needs to do. If you've read any of my other accommodation stay posts, you will know that I'm always interested in the size of the towels. Busta Hotel have bath towels rather than my preferred bath sheets but they did the same job.
What we didn't know until the next morning was that our room faced out over Busta Voe and the hotel's very own wee harbour. Although the cloud was low and it was raining, the view out of this window was mesmerising.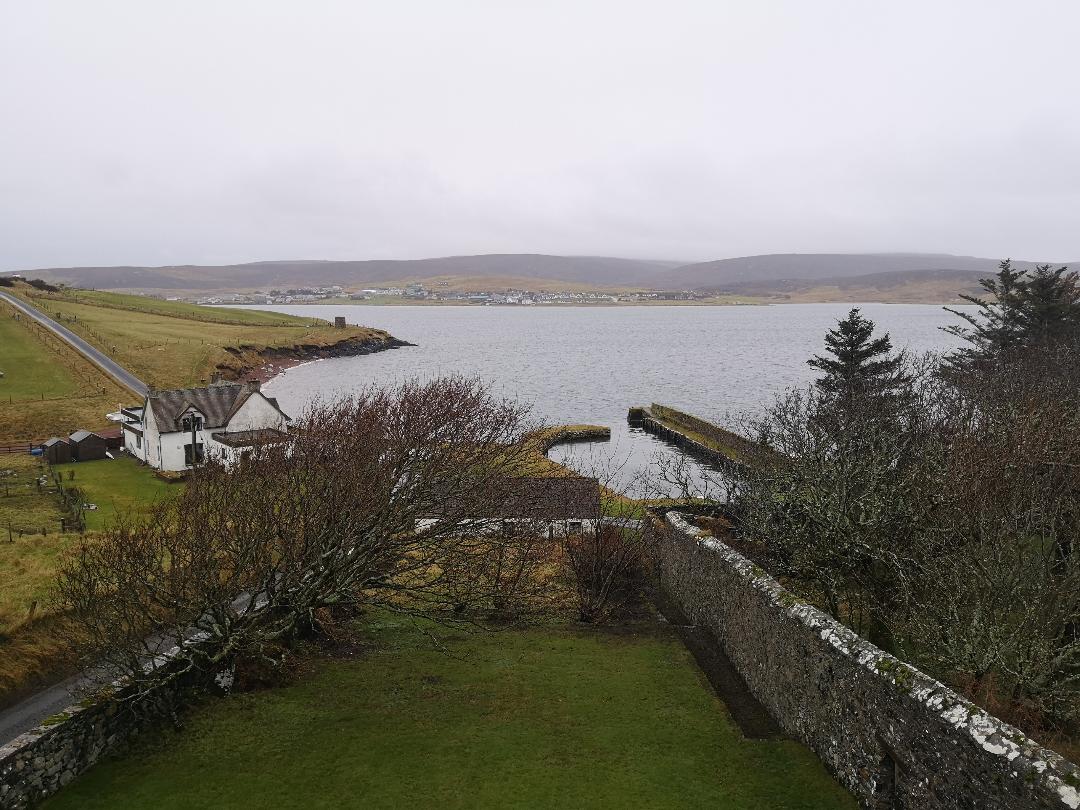 We felt well rested after a good nights sleep. A combination of good food, a comfy bed and all that fresh Shetland air the day before.
Pitcairn Restaurant
We were booked in for dinner at 19:00 and seated in the dining room along with some of the other hotel guests.
Looking at the menu it was immediately apparent that using local produce is important to Busta House Hotel. Throughout the bar and restaurant menus there were options of Shetland haddock fillets, Shetland hill lamb, North Atlantic prawns, Busta mussels, homemade Bannock, local scallops and Gremista Farm lamb. Alongside favourites from Orkney – Orkney cheddar and Orkney ice cream.
It took Dude and I quite a while to decide on what to have. I chose prawns in a marie rose sauce to start, followed by roast shoulder of Gremista Farm lamb with minted gravy, roast potatoes and roast root vegetables. Dude chose – Busta's own chicken liver pate with oatcakes to start and then baked fillet of Blydoit salmon and monkfish tail with a lemon and herb cream, again with roast vegetables.
I think there was barely a word spoken between us as we tucked into our meals. That's always a good sign of excellent food.
After a small break, we decided there was room for dessert. To be honest, I had spotted that there was bread and butter pudding even before we ate the first two courses, so I was always going to be having more! Dude isn't a chocolate/sweet pudding kinda guy so he chose the cheese board. An excellent end to our meal, we were definitely now stuffed to the brim.
We retired back to the long room, to assume a seated position by the fire, where we now asked how each others meal had been! We had cleaned our plates of every drop of food, it was a very short conversation.
The breakfast menu the next morning was another delightful read. A standard Scottish breakfast (bacon, sausage, tomato, mushrooms, tattie scone, black pudding and beans) was really tempting to help get us through the day of more walks and otter spotting. Instead we both chose scrambled eggs with smoked organic Shetland salmon. Other options included cereals, yoghurts, boiled or poached eggs, poached haddock and of course some toast.
Our stay at Busta House Hotel
We can't praise this beautiful hotel enough. The staff we friendly, helpful and knowledgeable. Our room was clean, quiet, comfy and had a view to die for. I can't talk about the food without salivating, it really was that good (although my photos don't do it any justice).
A one night stay really just shows a tiny bit of the Shetland hospitality and let's be honest no-one is likely to travel this far north for an overnight trip. Wee extra things like providing packed lunches if you are going out exploring for the day and don't want to buy supermarket sandwiches, the hotel has got you covered.
Staff are locals that know the area and can tell you the best beaches, walks, castles and views.
We felt relaxed and welcome during our stay at Busta House Hotel, just what we needed after a late night for Up Helly Aa. If you are planning your next (or first) trip to Shetland and prefer to be away from the hustle and bustle of Lerwick, I can highly recommend a stay here.
We would like to thank the Busta House Hotel team for their kind hospitality during our stay. Our stay was complimentary in return for this blog post.