In recent years we've all become more savvy on how and where we spend our money. I'm pretty sure that won't be changing any time soon. One other observation is that so many more of us are seeking greenspaces and outdoor activities. Us included. This doesn't always mean traipsing up hills or along forest tracks. It can be a flat walk, cycle or run in between some of Scotland's most well loved visitor attractions. Here's how to have a day out in Falkirk that won't break the bank.
The Helix – home of the Kelpies
To visit Falkirk it's just shy of an hours drive from where we live in Perth. It's one of the reasons we chose to move to the area, it's accessibility to many places. The Helix is located right next to the motorway. In fact the 30m high steel structures over look the motorway. So if you are travelling north or south, via Edinburgh, Glasgow or anywhere in between it's worth taking a short detour to visit.
Opened in 2013, the Helix now forms part of a bigger picture to connect local communities. With over 27km of wide, accessible, flat trails to help you discover the area. An excellent way to explore and get some steps in for the day.
Keeping the wee ones entertained here is not a problem. Just a short walk from Duke and Baron is the Adventure Zone with accessible play area and splash zone. The Plaza Cafe is on hand at the lagoon for hot drinks, snacks etc too.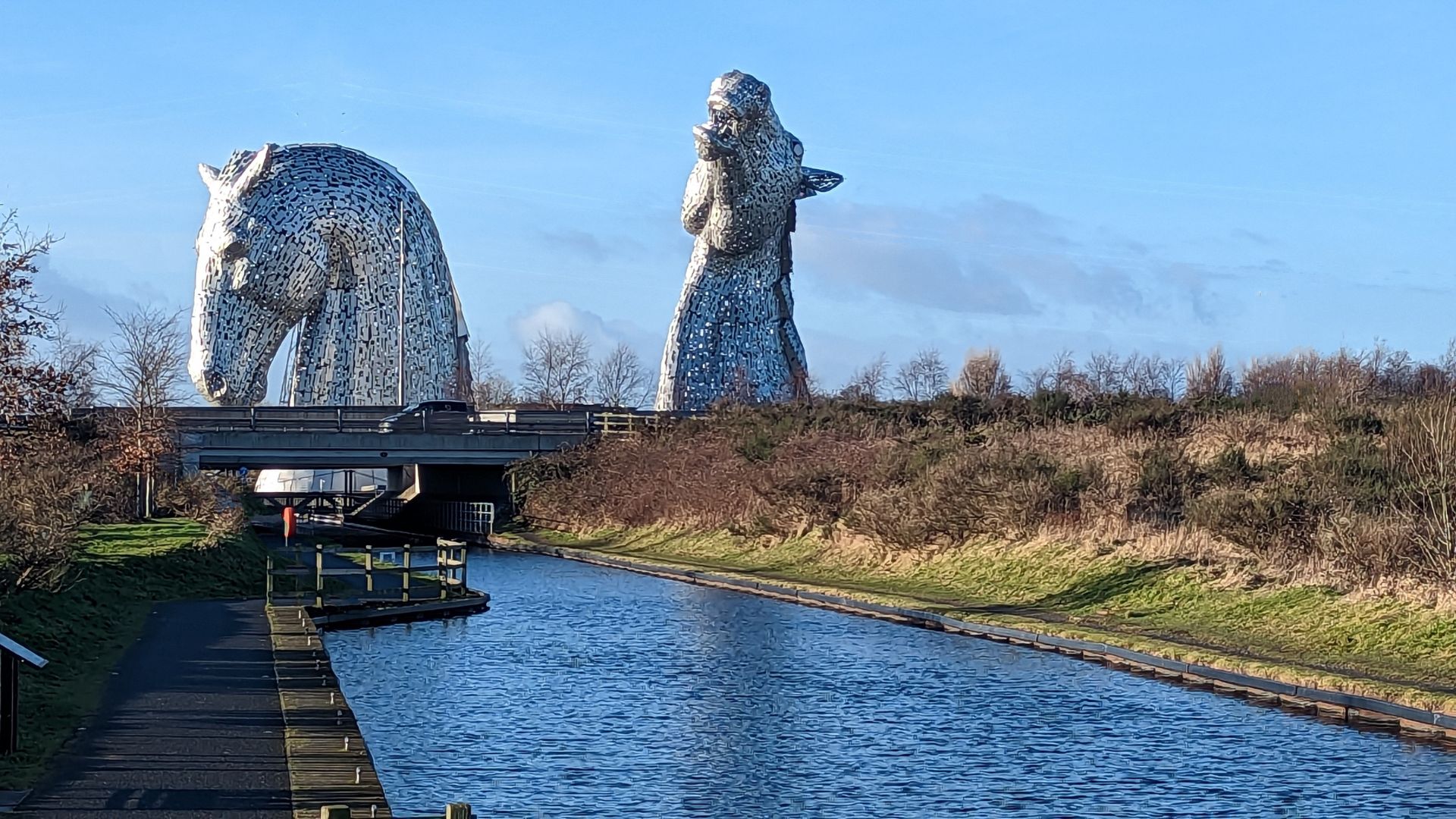 Visitor Centre and Cafe
All this fresh air and exercise can be thirsty/hungry work. A sunny day in January when the air is a bit crisp a bowl of tasty soup or a hot chocolate will help to thaw you out. We thoroughly enjoyed sweet potato and chilli soup with a fresh bread roll. Fresh, seasonal produce is always a winner. Take your reusable cup and receive a small discount on your hot drink too. For regular visitors you can grab yourself a loyalty card and receive a wee 'thank you' freebie when it's all stamped.
All the visitor centre staff are friendly, helpful and on hand to offer help for any questions. You can also book a tour of the Kelpies here too.
The gift shop offers beautiful Scottish gifts, mementos and keepsakes. Including some Kelpie merchandise you're not likely to find anywhere else.
The exhibition area offers a chance for small and big kids alike to colour their own versions of Duke and Baron. With extra recorded information about the design and construction to watch.
For anyone needing one, there is also a Changing Places toilet inside the Visitor Centre.
Kelpies Tour
All the times we've visited these stunning equine structures, we have never done a tour. Booked in for the 25 minute tour we met our guide at the Maquettes (mini kelpies), outside the cafe.
I won't give it all away, but highly recommended and worth doing. Going INSIDE a Kelpie is quite special. We learnt more about the real life models, history of the area and the legend of the shape shifting legends.
Green Tourism – environmental responsibility
With a place so beautiful, we should help keep it that way.
The team at Helix Park, the Kelpies and across Falkirk council area all help to do their bit. As visitors we can do our bit too. All across the site there are recycling bins and I also spotted a water bottle refill point too.
I've already mentioned the incentives here to use a reusable cup too.
Charging points for electric vehicles are available just a few minutes walk (across the road) at Falkirk stadium.
I think my favourite option has to be hiring a Forth Bike. An e-bike that will help you get around the Helix or further afield for a small fee (I refrained from writing charge..). These are located at the Kelpies carpark and are all ready for an adventure.
During our visit we spotted a kestrel, swans, coots, a buzzard and plenty of wee birds. The biodiversity here is obviously good enough to sustain a great lifestyle for birds and beasties.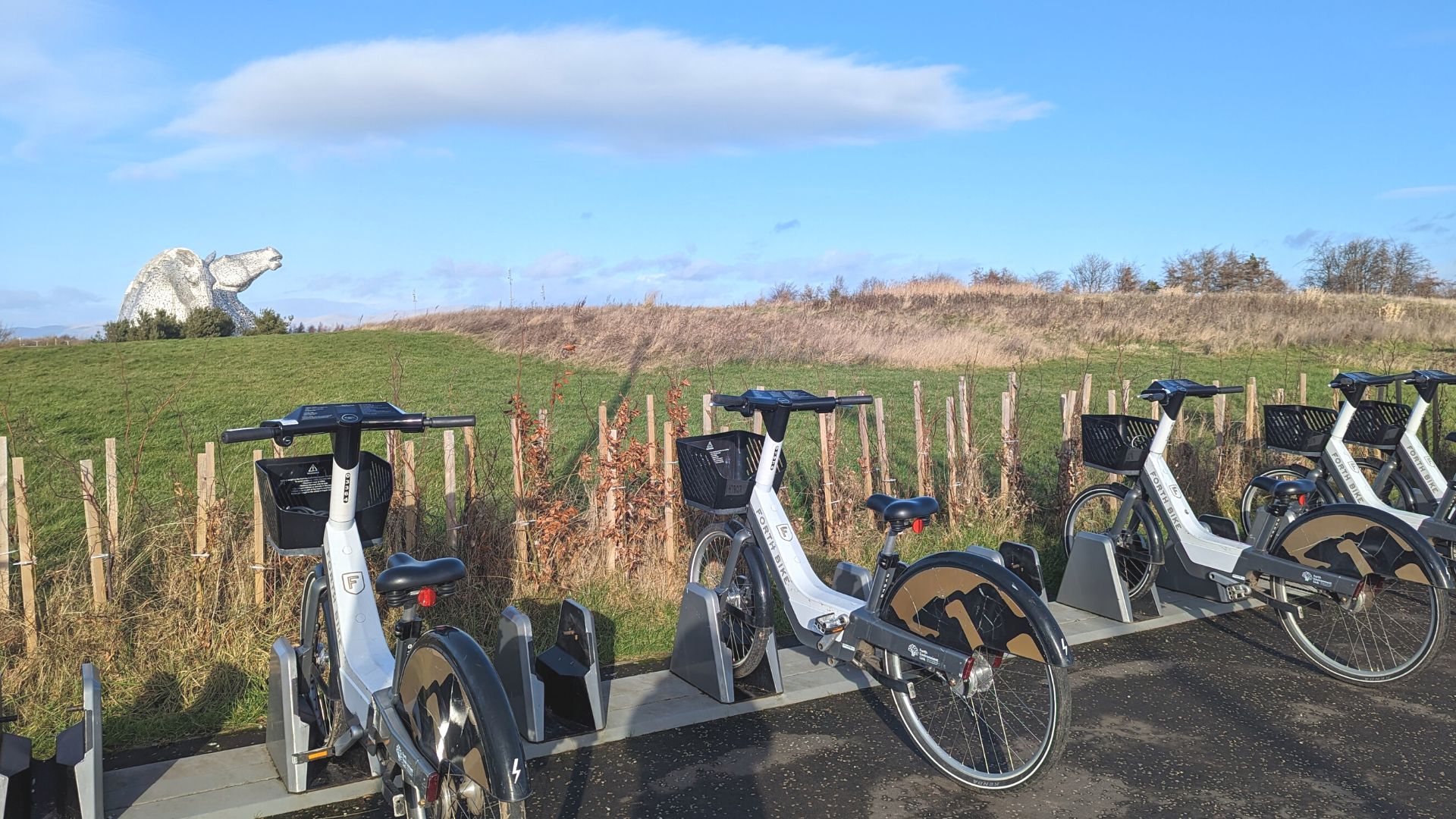 Callander House and Exhibitions
Continuing on our day out to visit Falkirk our next stop was Callander House. Sadly on this visit we didn't have time to hire a Forth Bike and cycle the five-ish miles. The parking here is also free but I imagine on a busy day it fills up quickly, so cycling (or walking) would definitely be a better option.
Dating back to the 14th century, Callander House and Park has received visits from Mary, Queen of Scots and Bonnie Prince Charlie. The 170 acre park includes an arboretum, ornamental gardens, a lochan and a large playpark.
We wandered round the park, admiring the giant redwoods and Scots pine trees. This seemed a popular area with families and dog walkers. It also offered a lovely view of the back of the house.
Entry to the house and it's exhibitions is free.
Rediscovering the Antonine Wall exhibition
Another fascinating part of the house history is now a UNESCO World Heritage site, the Antonine Wall. Spanning 39miles from the Clyde to the Forth, construction started in AD142 by the Romans.
Part of the wall actually runs parallel with the front of Callander House and forms part of the park.
We have previously visited a section of the wall close to the Falkirk Wheel. This new exhibition: Rediscovering the Antonine Wall helps join some of the dots.
After checking the main house fixed exhibits we found ourselves in the 2nd floor galleries where this interactive and engaging exhibition will be until 30th April 2023.
With bite sized pieces of information and artefacts in glass casings it is easy to build a picture of what life would have been like. Up to 7000 Roman soldiers were stationed along the wall, all living, working and relaxing in the same space.
Buckles, bowls, tools and even an early version of a noughts and crosses board have been found.
I'm pretty sure the large puzzle, sniff and smell and snakes and ladders games were meant for children but…. when in Rome! There were also several printouts dotted around the room with activities to do at home. You can make a Celtic armlet, design your own tartan cloth, learn some Latin words and even a recipe for boar stew. What a brilliant way to continue that learning and engagement once you're back home.
Shining a Light exhibition
Callander House is lucky to have room for a second, more contemporary exhibition. The Park Gallery room on the ground floor is currently home to Shining a Light and on until 30th April 2023.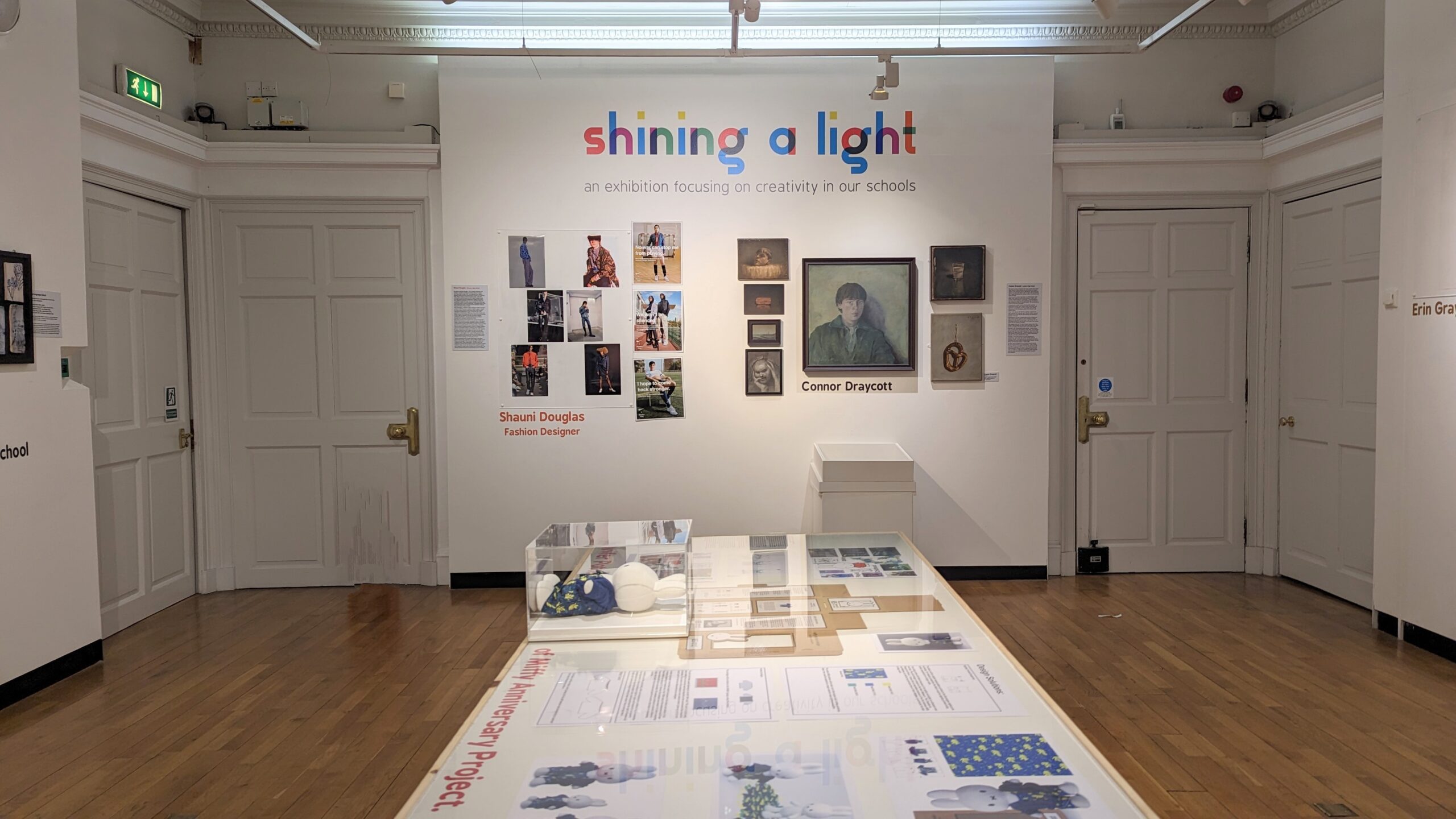 Art work selected is from secondary school students in the Falkirk area. I was blown away by some of the pieces, all from a mix of art mediums.
A long time ago I did art for my GCSE's and I'm pretty sure none of my projects were this creative and captivating. All pieces featured text describing influences and ideas behind their work.
Really impressive and well worth visiting.
Callander House is fully accessible. Allowing everyone to enjoy all floors of the house and not have to miss out on the amazing cake.
Callander House tearoom
It's hard work learning all these new things about the local area and by now I needed a seat, a hot drink and a piece of home made cake.
Thankfully, Callander House have the perfect spot. The tearoom overlooks the arboretum and lawn and the large bay windows allow plenty of light in.
After being seated, I noticed the chalk board with the selection of sweet treats on offer. My eyes were instantly drawn to the lemon cherry bakewell and when it arrived I wasn't disappointed. Jamie chose a pot a tea with a slice of lemon drizzle cake.
The hustle and bustle of the lunch time rush dying down, there was silence over our table. Savouring every bite for the delicious home baking.
I was excited to see Afternoon Tea on the menu. This is a great reason for me to return with one of my friends. We often meet up for walks and then cake!
A day out in Falkirk that won't break the bank
That was our day out in Falkirk that won't break the bank. Two incredible greenspaces packed with history, wildlife and free parking. They may be hiding in plain sight but definitely should not be overlooked.
(Ad) We were invited to visit these two attractions and share with you our day out. All opinions on cake are my own.