I've always loved being outdoors and going for a walk. More than ever since the first Covid lockdown. Mostly because of travel restrictions but this has meant we have unearthed some cracking walking routes. Now we're back to some sort of normality I wanted to share five Perthshire walks with killer views.
Scotland is synonymous with Munro bagging but that's not everyone's cup of tea. That includes me. The walks that we tend to do are mostly woodland walks. Some small hill walks with maybe no more than 300m of ascent. That's plenty high enough to admire the scenery but still get the blood pumping. If you've found during lockdown that you enjoy walking you may want to break yourself in gently with some smaller hills first? This is the hill walking list for you:
Discover beautiful Perthshire walks
Moncrieffe Hill
This wee beauty is one of our local favourites. Moncrieffe Hill is just outside Perth city centre and at its highest point stands at just 186m. Overlooked by many visitors to the area as they choose the higher vantage point of Kinnoull Hill on the opposite side of the river. Looks can be deceiving and it has plenty to offer. Our walks here vary in time. Anything from 1hr to 3.5hrs.
Explore the Trails
There are over 14km of waymarked trails that cover the 326 acre woodland. Meaning you can mix and match where you go on each visit. If your first port of call is Moredun Fort; from the main carpark on the north side the gravel paths are wide and well maintained. The gradual incline at first helps to get the muscles warmed up before a short steeper pull, but fear not there is a bench part way up.
Moredun Fort is one of two hill forts at Moncrieffe Hill. It is believed to have been a Pictish stronghold around AD 728. On a clear day the 360° view over looking the city of Perth is spectacular. Further afield along the Tay estuary you can make out the Tay rail bridge in Dundee to the east. To the north, the Cairngorm mountains. This is particularly impressive on a sunny winter or spring day and there is snow on the tops.
There is a smaller parking spot on the south side near Bridge of Earn (room for maybe 8 vehicles if everyone parks sensibly). The path from here pulls off uphill more severely for about 1km. Steeper than the other side and is more natural i.e. not gravel or level. The trees on this side of the hill are much more mature with oak, pine and Douglas fir lining the pathways.
Moncrieffe Hill is also home to red squirels, roe deer and great spotted woodpeckers. It's definitely worth remembering to take a pair of binoculars or a camera. This particular walk really doesn't have any one specific route and is great fun to explore.
Loch Ordie Circuit
I'll be honest Loch Ordie was actually in my sights because I was eyeing it up as a new wild swimming location but the walk itself is a cracker. After pawing over the OS map at the string of lochs along this walk we decided to do a recce. It took us 4hrs 30mins to do this 17.6km walk, including a lunch break at the top.
Wide gravel trails
There are a few variations of this walk but we started from Cally carpark near Dunkeld. Initially this walk starts off with no views and you will soon pass Cally loch. Once the views open up it's easy to forget how close you are to civilisation. Go through the large gate and onward to Mill Dam. The paths are wide, gravel, forest tracks for all of this route, also perfect for bicycles.
There is plenty of evidence that there are beavers in this area with many felled trees around the loch. It's a really pretty spot for a water break here too. After consulting the map we ignored the sign for "Loch Ordie via Deuchary hill" and continued straight following the "main path to Loch Ordie" marker.
Rotmell loch is about 5km into the walk and is pretty close together with Dowally loch. So if you wanted a linear walk and somewhere to swim, I'd recommend stopping at Rotmell loch.
The views improve from here as the gradual gradient continues up to Loch Ordie. With all the rainfall and recent snowmelt the burn was providing a soundtrack to our walk.
With around 220metres of ascent to reach the loch there are plenty of places to admire the view whilst eat your sandwiches (or whatever fuel of choice you have chosen). There are no litter bins up this high so please remember to leave no trace take everything back down with you.
At the back of the bothy/fishing hut, go through the gate and from here follow this (mostly downhill) back to Mill Dam. From this Perthshire walk there are some amazing views north of Schiehallion and the Cairngorm mountains from here. Once back at Mill Dam follow the same path you came up on to return to Cally carpark.
Really pretty route. I imagine there is plenty of wildlife about, but other than the signs of beavers we only saw a kestrel (which is cool).
Linn of Tummel Circuit
We first experienced this part of Perthshire in the early part of winter last year when we spent a morning canoeing with the Beyond Adventure team. It's a totally different feeling seeing things from the water and so we wanted to check out the walk for ourselves too.
Spending time near water is something we both enjoy. This 10.75km walk is perfect for seeing the river Garry and river Tummel in all their glory.
Riverside walk
Our starting point was from loch Faskally, following the narrow trail in front of Faskally House beside the river Tummel. The trail is lined with beautiful old beech trees close to the river's edge where you can access small beachy bits when the water is low.
Briefly heading away from the edge of the water, over a small wooden bridge, the path gains some height. Along this stretch we saw dippers, a great spotted woodpecker and a roe deer on the opposite bank.
As you approach Garry Bridge don't be alarmed if you hear the sound of screaming! It will be thrill seekers bungee jumping from the cage underneath the bridge, all safe and above board. Albeit a little crazy (in my opinion). From this point carry on a little further until you reach a pretty green metal bridge and then cross to the other side. Making sure you stop half way over to take the obligatory photo down the river though.
Following the path left until you reach a wee fork in the trail. Here take the lower path that goes under the bridge toward the Linn of Tummel.
At this point the waymarkers point right up a steep narrow path and up to the Coronation Bridge. It's along this bit we spotted more deer and a red squirrel. From here it's a short trek on the road. I thought I might lose interest for this part but there are points where you can get really nice viewpoints across Perthshire.
Head on over the footbridge that crosses the river Tummel (under the A9) and turn left to return through to the car through Faskally woods.
The Linn of Tummel circuit does not have the wide open views of the other walks but I think they hold their own.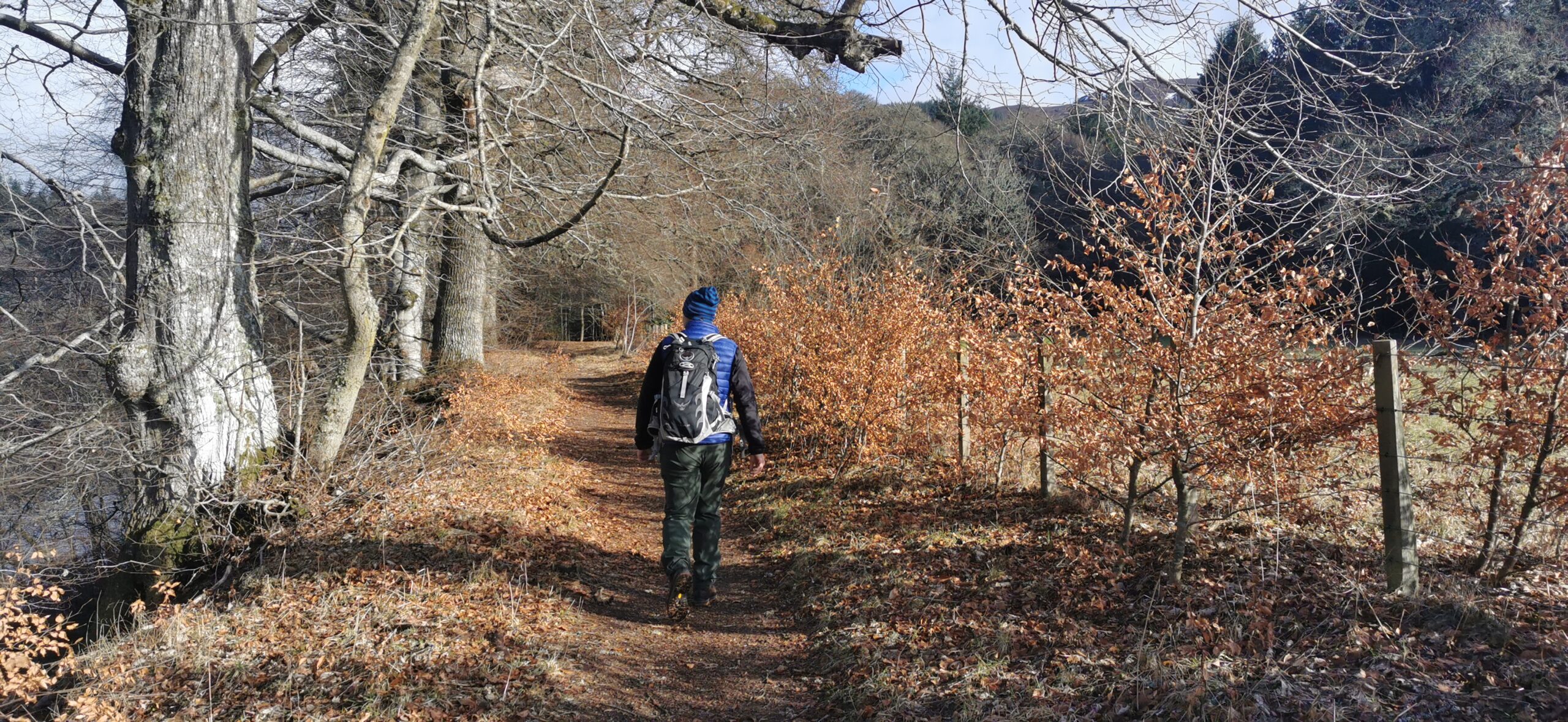 Black Rock viewpoint
The first time we walked up to Black Rock viewpoint I'd just been swimming in Loch Tay. It was a brilliant way to warm back up. I'd been curious about this walk for a while but each time we had visited Kenmore we'd had a busy schedule.
I wasn't disappointed. This short, sharp pull up from the carpark certainly brought out my inner steam train!
Woodland route
Plenty of parking at the Drummond Hill forestry carpark a short distance from the centre of Kenmore. The information board gives details about the wildlife found living in the area. There's a variety of trees that will surround you as you walk too. The colour coded waymark trails make it easy for you to follow.
Straight away the wide, gravel trail is lined with birch, larch and beech trees. A steep bank on one side and on the other a sheer drop. This also offers sneaky views over loch Tay. The zig-zag path is definitely the steepest part of the walk and it levels out as the tree line changes to the uniformed and densely planted conifers. From here the views are lost until you reach the viewpoint.
As with any hill walk it's always gamble if you'll get to see the view or not! For us, Black Rock viewpoint didn't disappoint. In fact we had the stereotypical Scottish four seasons weather! The hills on the opposite side of loch Tay were shrouded in mist as it started snowing! This weather front soon moved through and once again we were bathing in sunshine. We enjoyed picking out The Crannog and the Hot Box on the edge of the loch. Even watching the waves roll down toward Kenmore. Not a bad view at all considering we were only at about 170m.
Sadly we didn't see any capercaillies, red squirrels or pine marten. I imagine my impersonation of a steam train scared them off!
Rather than follow our footsteps back the same way down to the car we extended the walk by staying in the conifer tree line for a while longer and then going back on ourselves on a lower path. Ending up with an 8-ish km walk.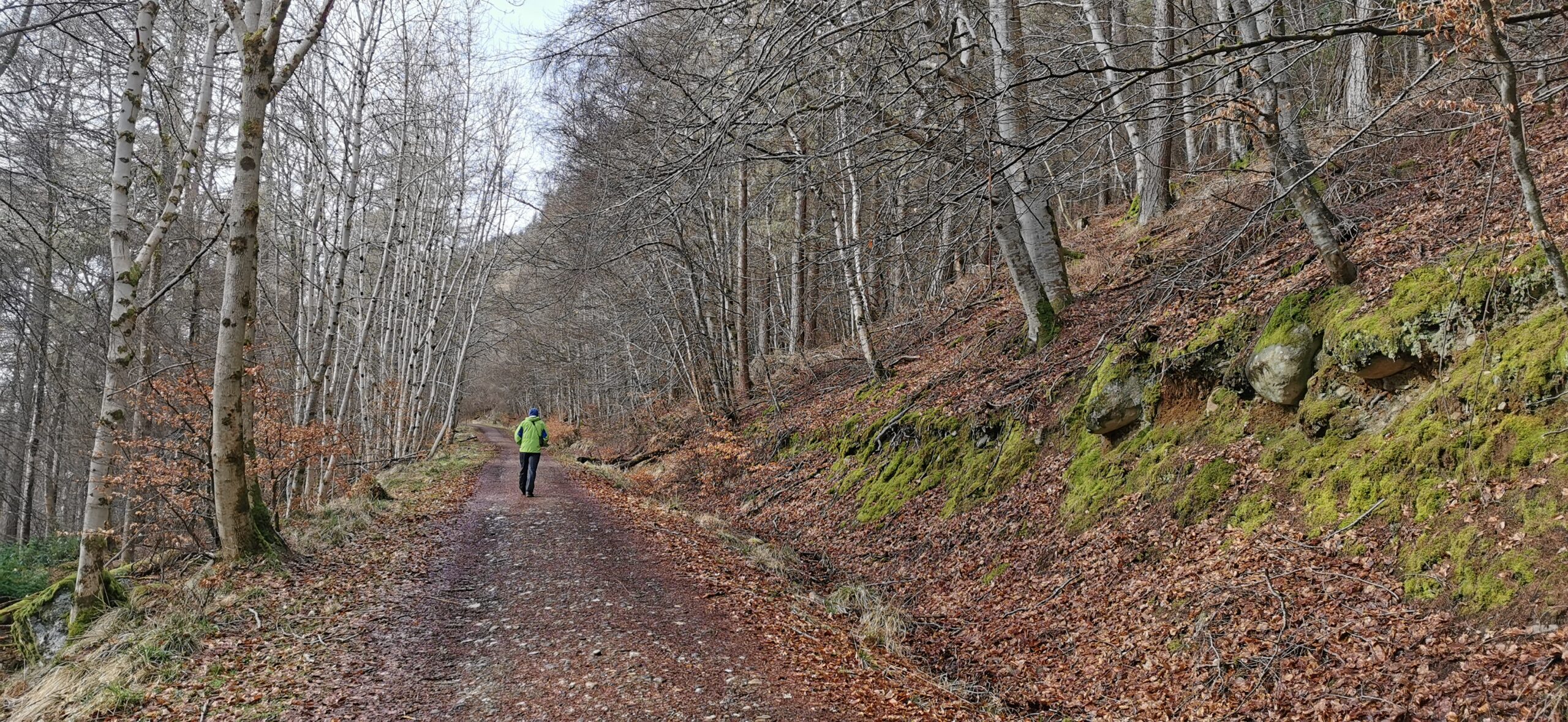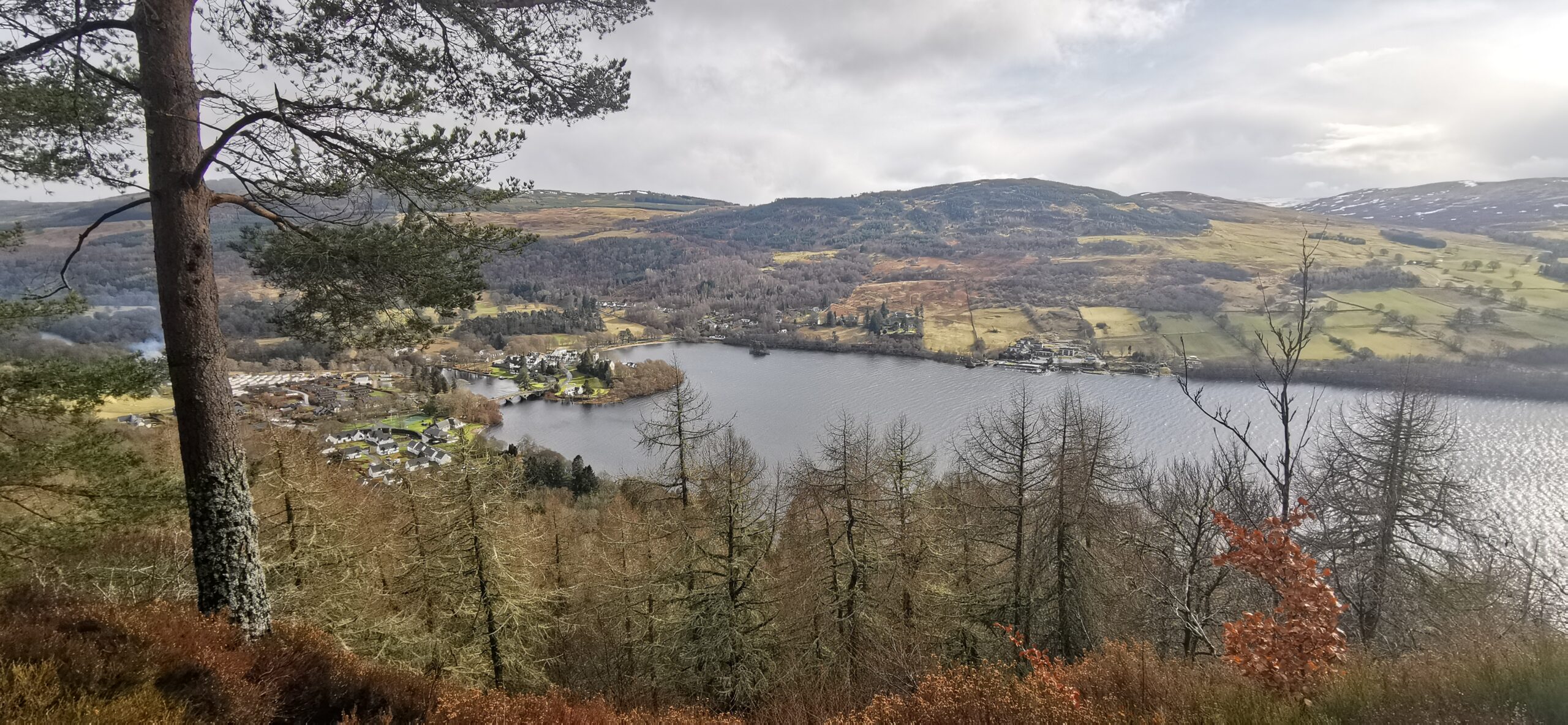 Allt na Bogair – Rannoch Forest
This walk, nestled on the banks of Loch Rannoch, is amongst some of the most precious of Scotland's native trees. It's a real corker. This Perthshire walk is just 8km long on mostly well maintained fire roads. Offers a chance to spot capercaillies and red squirrels. The total ascent of 180m shows off spectacular views over Kinloch Rannoch and on a clear day Glen Coe.
Admittedly, we did this walk during the week and didn't see a single soul all the way round but I imagine it does get busy. Just remember to always have a plan B if the car park is full. Including stops for lunch, photos and watching frogs, this walk took us just under 3 hours.
Follow the views and the sound of water
The starting point for this Perthshire walk was from the Forestry Land Scotland carpark at Carie on the south side of Loch Rannoch. Following the yellow route markers we headed out from the carpark. Then bearing slightly right through some trees to a T junction. The book we were using for the route told us to turn left but the rebels that we are chose to go straight over through the Birch trees. This lead us straight to a viewpoint to enjoy the blue sky and snow capped hills in the distance.
Essentially we did the walk in reverse and I think this was a much better option.
The wide gravel forestry road was filled with the sound of frogs and water as it flowed downhill. Gaps in the trees allowed glimpses of the loch below. Then the route changes into enclosed, narrow, muddy path woodland. The floor was a carpet of mosses and lichens, in the freshest green colour.
It was a nice surprise to come across a small lochan before heading back downhill beside the Allt na Bogair. This half of the walk is now dominated by the sound of water roaring through the deep chasm. The narrow path, now lined with ancient Caledonian pines and silver birch, is pretty much all downhill from here until reaching the carpark.
The area is full of history. Jacobite fugitives and Scotland's last wolf are to have sought refuge in the Black Wood of Rannoch.
Here is the Walk Highlands route if you wish to explore the area.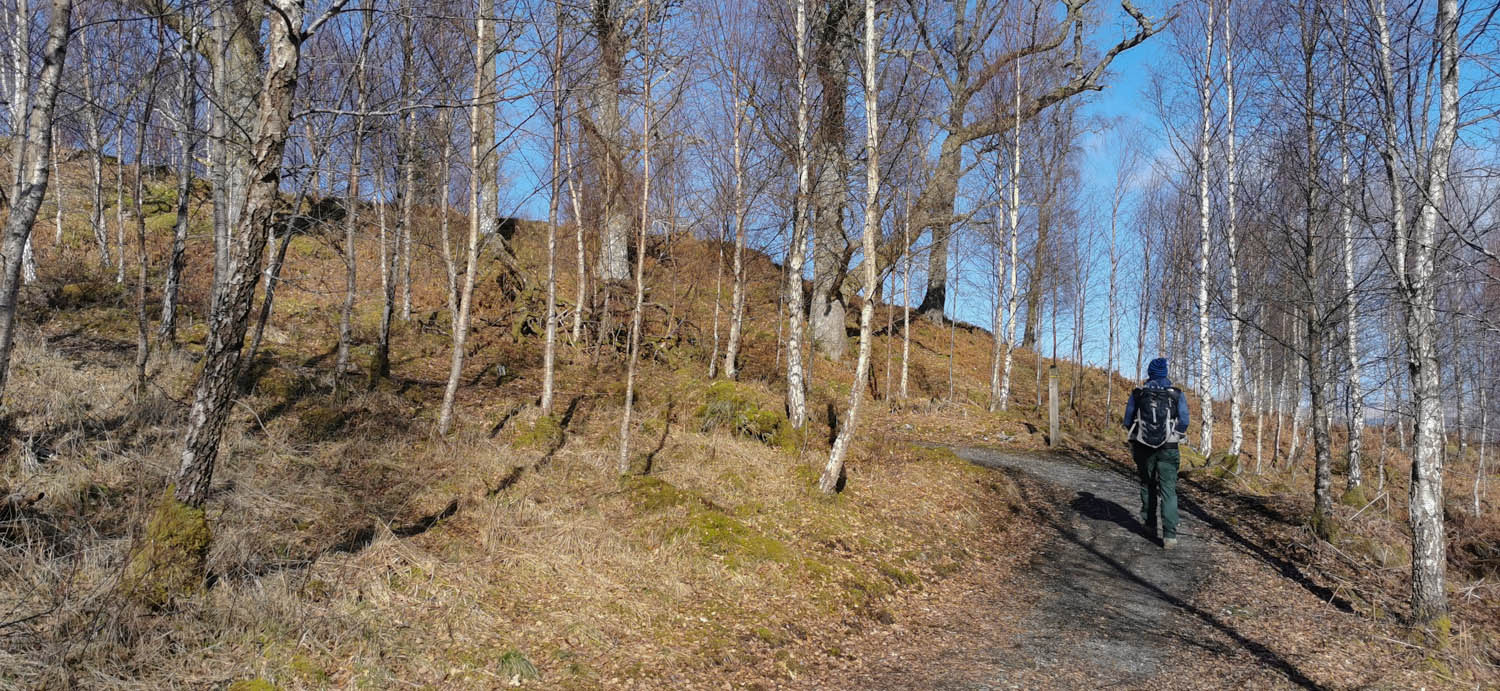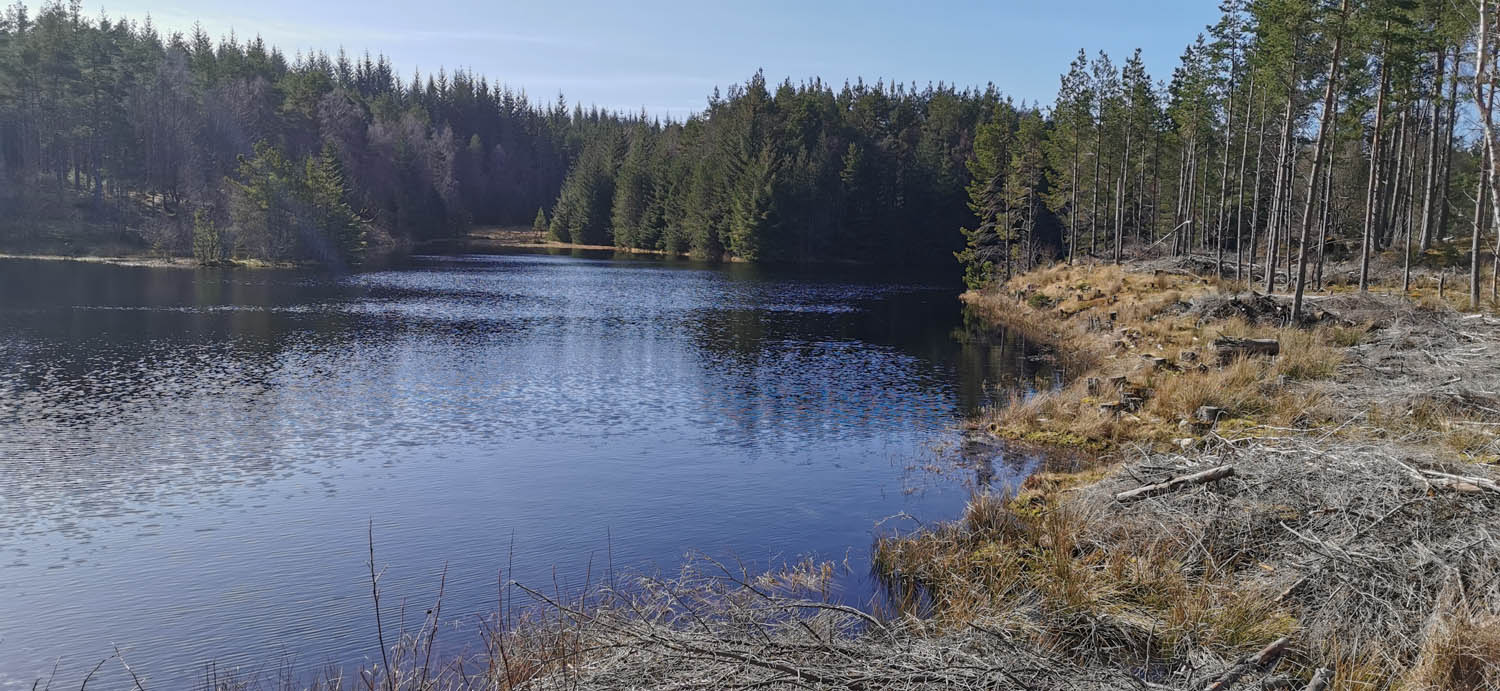 I hope you enjoy my walks in Perthshire suggestions
This is my take on five Perthshire walks with killer views. There are SO many options for hillwalking here and I hope I have helped you to discover something new?
Remember the hills are open to EVERYONE and there really is something to suit each of us. It's not a race, pause and enjoy the scenery, look for wildlife, take a photo. Just enjoy it.